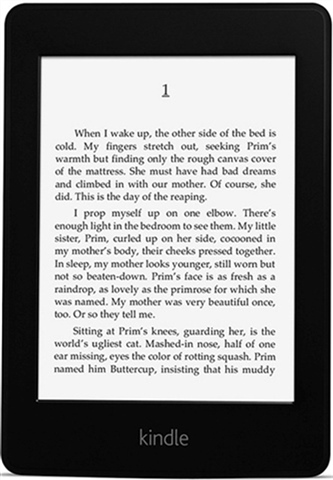 Amazon Kindle Paperwhite 1

Wi-Fi (2012), A

WeSell for
£52.00
WeBuy for cash

£24.00

WeBuy for voucher

£34.00

In stock online:
Only 2 Left!
Amazon Kindle Paperwhite 1 Wi-Fi (2012), A
Innovative Built-in Light
Paperwhite guides light towards the display from above instead of projecting it out at your eyes like back-lit displays, thereby reducing screen fatigue. You can adjust your screen's brightness to create a perfect reading experience in all lighting conditions, from bright sunlight to bedtime reading.
Read in Bright Sunlight with No Glare
Kindle Paperwhite has a matte screen that reflects light like ordinary paper so you can read as easily in bright sunlight as in your living room with no glare.
Read at Night
With Kindle Paperwhite, reading in bed just got better. The patented built-in light illuminates the screen, not the entire room, so you won't disturb your partner when you can't put your book down at night.
Designed for Reading
Unlike a backlit tablet display, Kindle Paperwhite guides light towards the surface of the e-ink display from above so that the light never shines directly towards your eyes, allowing you to read comfortably without eye strain. The built-in light illuminates the screen more evenly than a book light or lighted cover.
Perfectly Balanced Whiteness
We worked on Kindle Paperwhite for over two years to perfect the uniformity of the built-in light, flattening out a fibre optic cable into a sheet, and nanoimprinting to ensure perfectly even distribution of light. Our design uses nanoscale optical diffractive patterns to enable tight control over the direction of the light. Enjoy reading with exceptional lighting uniformity and evenly balanced whiteness across the entire display.
Adjustable Brightness
Your eyes adapt to the amount of light around you, so you'll prefer dimmer light when reading in a dark setting and brighter light when reading in well-lit surroundings. You can adjust the brightness of Kindle Paperwhite across a wide spectrum - from low light to full brightness - so you can read comfortably in any setting.
Power Efficient
Because our patented technology enables fine-grain control over where the light is diffused, Kindle Paperwhite uses low-power LEDs, requiring very little power to evenly illuminate the entire screen.
Holds Up to 1,100 Books
You'll never have to leave your favourite titles behind. With Kindle Paperwhite, you can keep your entire library at hand wherever you go.
Built-In Wi-Fi
Kindle Paperwhite connects easily to your home Wi-Fi network or Wi-Fi hotspots on the road for quick, convenient access to books and content anywhere you can access Wi-Fi.
Thinner Than a Pencil
Kindle Paperwhite features a new, slimmer design. At just over third of an inch, it is thinner than most pencils.
X-Ray
Explore the "bones of the Book". With a single tap, see all the passages across a book that mention relevant ideas, fictional characters, historical figures, places or topics of interest.
Adjustable Text Sizes
Design your own perfect reading experience by customising the text size to suit your tastes and reading comfort. Choose from eight text sizes to prevent tired eyes and keep you reading longer.
Hand-Tuned Fonts
All six fonts on Kindle Paperwhite have been hand-tuned at the pixel level for maximum readability and comfort. Higher resolution allows for unprecedented sharpness. The new high-resolution display allows for elegant typeface options including Baskerville and Palatino.
Bookmarks and Annotations
Add your own notes to the text just like writing in the margins of a book. Edit, delete, and export your notes. Highlight and clip key passages.
Real Page Numbers
We match the pages of a Kindle book to the text in a print book to identify the corresponding "real" page number. Easily reference and cite passages or read alongside others in a book club or class. Available on tens of thousands of our most popular Kindle books. Page numbers are displayed when you push the menu button.
Read with One Hand
Lighter than a paperback, you can comfortably hold Kindle Paperwhite in either hand for long reading sessions without fatigue or discomfort.
Fast, Easy Page Turns
EasyReach tap zones on Kindle Paperwhite's responsive touchscreen let you tap lightly to turn pages. No need to swipe or use two hands for fast, seamless page turns.
Time to Read
Time to Read is a new feature for Kindle Paperwhite that helps you know how long it will take to finish a chapter or book. Time to Read is personalised based on your reading speed and is constantly updated as your speed and habits change. With Time to Read, it's never been easier to decide when to start a new chapter or finish the chapter you're reading.
Whispersync
Our Whispersync technology synchronises your last page location, bookmarks, and annotations across all your devices so you can pick up exactly where you left off reading.
Parental Controls
Parental Controls allow you to restrict access to the Kindle Store, Cloud, and Experimental Web Browser so you can give Kindle Paperwhite to a child worry-free.
Features:
2GB Internal Memory
6" Paperwhite Display
Wi-Fi 802.11b/g/n
USB 2.0
Format 8 (AZW3), Kindle (AZW), TXT, PDF, unprotected MOBI, PRC natively; HTML, DOC, DOCX, JPEG, GIF, PNG, BMP through conversion
Built-in light, 212ppi, optimised font technology, 16-level grey scale
169 x 117 x 9.1 mm
213 g
---
Amazon Kindle Paperwhite 1 Wi-Fi (2012), A
is rated out of
5
by
11
.
Rated

5

out of

5
by
G1LLH4M
from
Literature eat your heart out!
This product arrived as said, EXCELLENT condition. Very prompt delivery. I use to be sceptical about converting from reading paper books to a Kindle. But I was soon proven wrong. With the paperwhite's ability to adjust brightness, you can have it so it looks like you are reading from a page itself. I suggest getting the paperwhite, purely based on the brightness factor alone. It helps drastically in dark situations. So very worth the extra money. If you are in doubt, buy! Prove yourself wrong! And best of all, more space!
Date published: 2015-03-03
Rated

5

out of

5
by
Rachaelrachierach
from
Brilliant Value, great kindle!!
So bought this kindle after I broke my other. I bought the paperwhite kindle as I liked the screen that lights up and I like the touch screen. It's very easy to use, small enough to carry around and can store soooooo many books!! When the kindle came I was apprehensive about its condition but it was FAULTLESS! No scuffs, scratches or marks. Perfect condition. I definitely got excellent value for money!
Date published: 2016-09-03
Rated

5

out of

5
by
AJK67
from
Exactly as it said on the tin
As a happy CEX customer for the past 18 years, more and more I turn to them for a reduced price, reliability and availability of electronics. The Kindle was a replacement for the same model that I bought new and there is no way to tell them apart as CEX A grade is exactly that. Excellent product & service, thanks CEX!
Date published: 2015-08-20
Rated

5

out of

5
by
katherine
from
Great product
Got this as a present for my boyfriend as he had an older one and this is great, in fact I love it so much I got one of my own. Excellent for when you're travelling and so much more convenient space wise than having a load of books. Good product, good price and in great condition.
Date published: 2015-10-15
Rated

4

out of

5
by
Alarse
from
Great condition but beware of colour
Product arrived promptly and in great condition. However, it was white which I wasn't expecting so would be helpful if CEX made such things clear or gave a photo of the item. Other than that all hunky dory.
Date published: 2017-11-02
Rated

5

out of

5
by
12Natalie13
from
Love my kindle
I bought this to replace my old one which I left on the aeroplane like an idiot. I bought the exact same model as I love the paperwhite especially the back lite feature. Extremely easy to use.
Date published: 2016-06-19
Rated

5

out of

5
by
Nikko
from
Why buy a new one?
Decided to buy a used kindle and save some money instead of buying a new model. Great decision! Perfect condition and does everything you need from an e-reader.
Date published: 2015-06-16
Rated

5

out of

5
by
TommyBoy
from
kindle
Great bit of tech for book fans. With the kindle paperwhite i can take my bookshelf anywhere. Making long train journeys a dream ! 5 stars
Date published: 2015-03-29