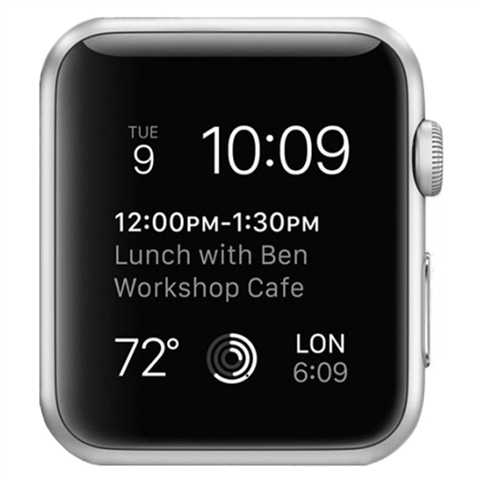 Watch Sport (A1553) FACE ONLY,

Silver Aluminium, 38mm, A

WeSell for
£130.00
WeBuy for cash

£61.00

WeBuy for voucher

£86.00
Watch Sport (A1553) FACE ONLY, Silver Aluminium, 38mm, A
*This item is the face only, watch strap bought/sold separately.
Make the most of time
The Apple Watch is first and foremost an incredibly accurate timepiece. It does everything a watch should, but in ways no other watch ever has. It's also connected to your calendar and your contacts. So in addition to showing you the time, the Apple Watch actually understands what time means to you. It helps you be more productive and efficient. So you get more out of every moment.
Light and tough Ion-X glass display.
The display is protected by a lightweight aluminosilicate glass that's especially resistant to scratches and impact.
Exquisitely crafted bands and clasps
Designed to provide a striking complement to the solid gold cases.
Apple's most personal device yet
The Apple Watch represents a new chapter in the relationship people have with technology. It's Apple's most personal product yet, because it's the first one designed to be worn.
Learn more when you lift your wrist
Faces
Choose a face and customize it however you like. Add more functionality. Switch colors and see even more detail, such as minutes, seconds, and milliseconds.
Complications
An alarm, the weather, when the sun rises and sets. You can see information that's relevant to you and how you spend your time.
Glances
A quick swipe shows what's important to you as you go through the day: your next meeting, sports scores, stocks, and even a map to your next destination.
Millions of ways to see time
A device you wear is unlike one you put in your bag or pocket, because it makes a bigger statement about your personal style. So the Apple Watch faces are designed to be extensively customizable, from how they look to what they do. When you combine all the possible options, there are virtually endless ways to make the Apple Watch your own.
One watch. Many faces.
Most watches are designed with a single face. But the Apple Watch comes with a range of watch faces — from traditional to playful to artful to educational. You can change them whenever you like, and explore many different ways to see time.
Color
A bold and clean design shows the time in a range of bright colors that you can change to suit your mood. Use the Digital Crown to choose a color. Keep things minimal or add complications for even more functionality.
Modular
The flexible grid design easily accommodates the greatest number of complications for a rich view into your day ahead. When you tap one, you'll go right to the corresponding app.
Motion
A butterfly flutters. A jellyfish swims. A flower blooms. Choose a theme, and each time you raise your wrist you'll see a different species, color, and movement.
Solar
Based on your current location and the time of day, you can see the sun's position in the sky — at dawn, sunrise, solar noon, sunset, dusk, and solar midnight. Follow the solar path over time as you turn the Digital Crown.
Astronomy
Working with astrophysicists, we've created this digital orrery. Turn the Digital Crown to see the solar system and the exact position of the planets, sun, and moon as you move forward or go back in time. View different scales: A day by one rotation of the earth, a month by moon phases, and a year by the passage of planets around the sun.
Dial in every detail
One Apple Watch face can have a multitude of looks. When you choose a face, you can also choose the colors and indicate even more details of time, like minutes, seconds, and milliseconds. So when you glance down at your wrist, you see time precisely the way you like.
Complications made simple
Many watches include a few specialized functions — known in watchmaking as complications — that go beyond telling the time. But the Apple Watch comes with a full range that can be added to most faces. Some complications are traditional, such as moon phases or sunrises and sunsets. Some are more modern, like stock quotes, weather reports, your next calendar event, and a daily activity tracker. And you can tap on certain complications to get more information from their corresponding apps.
Timekeeping that goes beyond hours, minutes, and seconds
We all share the same time. But what happens during that time is different for everyone. So the Apple Watch doesn't just keep accurate time. It allows you to see time in the ways that are most meaningful — and useful — to you.
An easier way to navigate your day
The Apple Watch is seamlessly connected to your calendar, maps, and reminders, so it can send notifications and alerts based around your life and schedule. It keeps you on track and on time by sending you quick notifications you can read, along with a tap you can feel.
Features:
Silver aluminum case
Ion-X glass
Retina display with Force Touch
Composite back
Digital Crown
---
Watch Sport (A1553) FACE ONLY, Silver Aluminium, 38mm, A
is rated out of
5
by
7
.
Rated

5

out of

5
by
AdamDean
from
Amazed with this product
I purchases this item on Friday morning and it arrived at 7:25am the next morning, I was so impressed with the fast delivery, and when I opened it, I was even more extatic with the product, it was grade A and was literally brand new, it was for a gift and it's served very well, I was so pleased I've even directed people to CEX for further gifts etc, the price was very reasonable and I would of actually paid more for this item; the condition was so good, I purchased a strap also and that was literally brand new, it even came with an EXTRA strap also for a larger size, amazing value/condition and service I will be purchasing further items in the near future ....especially for gifts
Date published: 2016-12-16
Rated

5

out of

5
by
paulm
from
Great sports Apple watch
Great watch, better than expected and very useful to see /msg emails discretely when in meetings. Other functions like heart rate also useful. Excellent to see time during the night and love the ease of changing strap
Date published: 2015-08-05
Rated

5

out of

5
by
Thomas79
from
Perfect !
My girlfriend wanted an Apple Watch and I had bought several items from CEX in the past, she wanted brand but I said lets order from CEX and if you don't like we will send it back. We got both the watch and the strap both grade A and they are both perfect condition. It came with original box and all original documentation plus the 48 month warranty that CEX offer. I checked the watch over not a single scratch and a massive saving on buying from Apple. My girlfriend is thrilled and for a purchase like this CEX is the place to go.
Date published: 2016-12-19
Rated

4

out of

5
by
popit30
from
Pleased with Apple Watch
Decided to purchase this watch in used condition and went for the highest rated watch which I think was a grade A. The watch was well packaged, came in a box with all original items. Watch face was clean and free of any scratches. Overall happy with the purchase of this watch and would use CeX again.
Date published: 2016-09-14
Rated

5

out of

5
by
benbum
from
Great item and price
bought Apple watch face only at fair price, fast delivery and no hassle. all good
Date published: 2017-01-18
Rated

5

out of

5
by
Tashaa74
from
A Grade Apple Watch great buy!
Bought for my daughters birthday, looks great for the price and she loves it!
Date published: 2016-07-24
Rated

5

out of

5
by
Jxxx241
from
Excellent
A gift for Christmas excellent condition great features
Date published: 2015-12-30
Sorry, this item is currently out of stock.