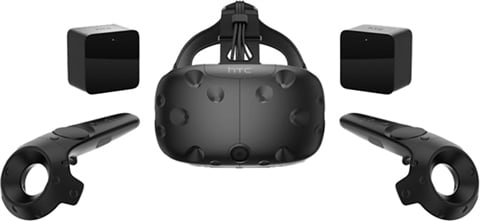 WeSell for
£495.00
WeBuy for cash

£321.00

WeBuy for voucher

£371.00

In stock online
HTC Vive VR System, A
WHAT'S INSIDE COUNTS
Experience room-scale gameplay with precise motion tracking and natural controller gestures. Get a glimpse of the real world when you need it thanks to the front-facing camera. Open apps and games without taking off your headset. This is fully immersive VR.
SEE FOR YOURSELF
Everyone gets blown away by the Vive experience. You should be next! Stop by one of our tour locations to try Vive. You'll get to play around with crazy-cool virtual reality games and chat with other HTC aficionados. Believe the hype, get excited and see for yourself what the tech world's raging about.
---
HTC Vive VR System, A
is rated out of
5
by
6
.
Rated

5

out of

5
by
James5325
from
Best VR headset
I didn't buy this online, I bought it at once of the CEX stores and it came with all accessories. This runs all games I have tested (allowing for RAW DATA) at 90fps with my GTX 970. The controllers mean that you can be fully immersed in games without having to take off the headset to switch games etc... My favourite game so far is Super Hot VR (A shooting game where time moves as fast as you move) although you will need to use third party software called ReVIVE to get the game working.
Date published: 2017-01-20
Rated

5

out of

5
by
Jam163
from
Fantastic bit of kit!
Unbelievable piece bit of technology. If you get chance to try one i highly recommend you do, if your in a position to buy one and are thinking about it......what are you waiting for. It is truly like nothing else you have experienced with plenty of free games and demos to keep you occupied while you save up for paid ones :-D
Date published: 2016-09-29
Rated

5

out of

5
by
Lewis1_2_3
from
Amazing piece of kit, every time I put the hea....
Amazing piece of kit, every time I put the headset on it really is like stepping into another world. One thing worth noting is the free games that come with the headset are unlikely to come with it if the vive has been set up and used before.So I really need to get some good games to take advantage of this. Content at the moment is expensive as i guess it takes longer to develop VR titles compared with other games, but it should come cheaper over time. All the brackets and wires were included, however one of the controller chargers wasn't origonal, but that wasn't really a problem. Everything was unmarked and well looked after and as expected, it all works. If you can afford this, I would recommend one but make sure you download the Vive PC assessor software, otherwise you'll be buying new components for your PC too just to run it!
Date published: 2017-04-06
Rated

5

out of

5
by
Joealdus
from
Came as new
Super happy!! Product came with all accessories some in sealed condition. Get it you won't regret!
Date published: 2016-12-10
Rated

5

out of

5
by
Dalorus
from
Spot on!!!
It took a couple of hours to set everything up but it is well worth it!
Date published: 2017-12-14
Rated

4

out of

5
by
DK70
from
2nd User Grade A but not sold as such
The HTC Vive unit came in original packaging with some bags unopened, the Visor had seen use along with at least 1 controller which was flat. Hairs were in the Visor fomb and the glass was greasy. Apparently either a return or demo unit which had a few days use. There were no instructions on how to set the thing up which you had to get from the HTC website videos, the included ones were little use and multilingual, The two most difficult things to install are the sensors and setting the channels which at over six feet over furniture means the button on the back can be inaccessible and actually plugging cables into the visor which for some off reason did not have an open this way arrow so will be user damaged. The supplied sound earplugs had been used since detachable plugs were sent with it in an opened bag with the other headset cables. They were spare but they will not be used since the supplied unit stops the visor access port for the HDMI USB and sound closing.Plug 5mm too large at the 3.5mm jack and I used sony headphones instead. Installation required steam which I was not pleased at and the Nvidia GFX 1060 card I bought from CEX handled the VIVE well. Steam now complains my PC is below spec, but it would since it exists to sell you games. I use the Vive for 3D documentaries and tours. It is highly recommended to use monitor, mouse and keyboard to access Steam and Vive web portals since the controllers are not up to the job.
Date published: 2017-10-30