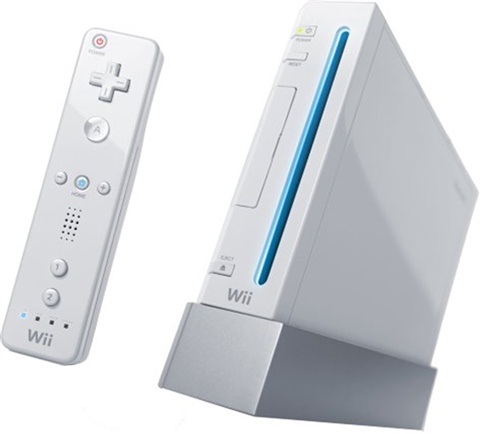 Wii White Discounted (No Game)


WeSell for
£22.00
WeBuy for cash

£10.00

WeBuy for voucher

£14.00

In stock online
1265
Wii White Discounted (No Game)
DESIGN
Featuring a compact design that makes it a natural addition to any television setup, the Wii console is white in color and can be displayed either vertically or horizontally.
COMPATIBILITY
The Wii is backward-compatible to all Nintendo GameCube games and includes four ports for controllers and two slots for memory cards.
MEDIA
A single self-loading media bay plays single- or double-layered 12-cm optical discs for the Wii console, as well as 8-cm Nintendo GameCube discs.
SIZE
About 8.5 inches long, 6 inches wide and less than 2 inches thick (roughly the size of 3 DVD cases stacked on top of each other).
INPUT / OUTPUT
Input: Four Wii Remotes can communicate with Wii, which features a bay for an SD memory card.
Output: An AV Multi-output port for component, composite or S-video.
NETWORK
The Wii console communicates wirelessly with the Internet via wireless or a Wii LAN adaptor. Wii also can connect wirelessly with Nintendo DS.
CPU / GPU
PowerPC CPU (code-named "Broadway"), made with a 90nm SOI CMOS process, jointly developed with and manufactured by IBM; GPU developed with ATI.
---
Notes About Additional Content
Our products may not include additional material like Digital Copies, Online Passes or promotional downloadable content (DLC).
Wii White Discounted (No Game)
is rated out of
5
by
19
.
Rated

5

out of

5
by
cally6000
from
Nice Console for using video services and gaming
I bought this as a cheap way to access video services like Youtube and Netflix on my bedroom TV. Cant think of a cheaper way of doing that for 20 GBP. I also may indulge in playing some Nintendo classics like zelda/mario/metroid... Good service and got exactly what i ordered. With a 12 month warranty why ever buy new again...
Date published: 2015-04-24
Rated

4

out of

5
by
weemags
from
great console
I bought the wii for my 4 year old niece and was probably the best thing that I have ever got for her it keeps her occupied when I'm busy (making dinner /cleaning) and also fun to play together she enjoys it very much. Great purchase
Date published: 2015-01-02
Rated

5

out of

5
by
Tania
from
Reasonable price
I am really happy with my purchase and I got a knuchuk without knowing it's going to come with the package
Date published: 2014-12-31
Rated

5

out of

5
by
corps
from
underated games machine.
excellent games machine at a bargain price. with a good warranty can't go wrong. thankyou CEX still running my gamecube i bought about 4 years ago.
Date published: 2014-12-23
Rated

5

out of

5
by
SurreyGirl2009
from
Wii console plus accessories, wii remote x5.
Excellent no problems. Works like new. Postage perfect. Only downfall, should have stated a remote was included, as I had bought an extra, now I have 5 remotes - annoying. Plus a remote included was filthy - ergh..beyond cleaning. Thankfully I don't have to use it. Advise - b4 purchasing go to shop in person to check out quality.
Date published: 2014-12-30
Rated

4

out of

5
by
paddy86
from
Fun little console
I bought in a charity shop because i had good memories of playing the wii sports games and i though it would be cool to have it. In the end i didn't spend much time playing as i also had a PS2 and now a PS3. So it just sat there for ages and eventually i should sell it. I think the price offered was ok. It's a good little console for playing fun silly games or something not that serious like call of duty.
Date published: 2015-03-03
Rated

4

out of

5
by
anita1965
from
Great value for money
I used to have a wii but had to sell it a few years ago. Such a great way to keep fit using the My Fitness Coach game bought at the same time. The connector lead for the tv was missing but this was sent out to me straight away. Fantastic item, fantastic price, fantastic value!
Date published: 2015-08-06
Rated

5

out of

5
by
bendo
from
Great Entertainment
It you want some fun time to pass the long dark winter evenings then this product will provide that. It's simple to set-up and use and the added benefit is that you get some exercise at the same time. There are plenty of games to choose from, my favourites are the sports ones.
Date published: 2015-11-16