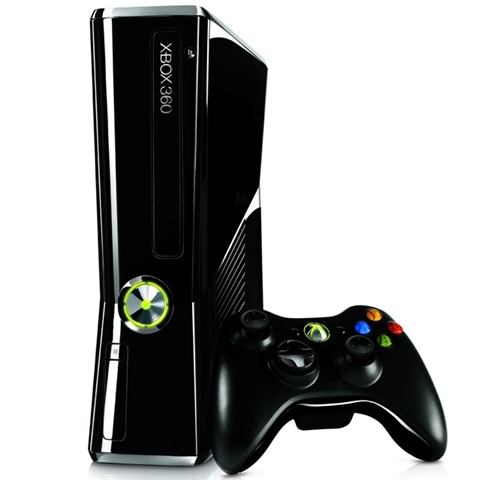 Xbox 360S (Slim) Console,

250GB, Discounted

WeSell for
£68.00
WeBuy for cash

£31.00

WeBuy for voucher

£45.00

In stock online
Xbox 360S (Slim) Console, 250GB, Discounted
The new Xbox 360. Here today, ready for tomorrow with leaner machine in an all new black gloss finish. Wi-Fi is built-in for easier connection to the world of entertainment on Xbox LIVE, where HD movies and TV stream in an instant. It's ready for the controller-free experiences of Kinect - you don't just play the game, you are the game. And with the huge hard drive you'll have plenty of space to store your favourite games and movies. Xbox 360 is more games, entertainment and fun.
Built-in Wi-Fi: The new Xbox 360 is the only console with 802.11n Wi-Fi built-in for a faster and easier connection to Xbox LIVE. Stream HD movies and TV or download games from Xbox LIVE in 1080p and 5.1 surround sound from anywhere in the house. Compatible with b/g/n networks.
Xbox LIVE: Xbox LIVE brings a world of entertainment to you. Download game add-ons like new levels, characters, maps and songs. Easily jump right into online multiplayer fun and play along with friends around the world. Plus, get your favourite music from Last.fm, connect with friends on Facebook and post Tweets on Twitter. Imagine controlling a movie with the wave of your hand or video chatting on your TV. Xbox LIVE is your connection to more games, entertainment and fun.
More Ports: Connect more accessories and storage solutions with added USB ports. Now with a total of 5, (3 back/2 front) you'll find more places to plug and play. Plus, in addition to the standard Ethernet port and HDMI output, there's an integrated optical audio out port for an easier connection to the booming sound of your A/V receiver.
---
Notes About Additional Content
Our products may not include additional material like Digital Copies, Online Passes or promotional downloadable content (DLC).
Xbox 360S (Slim) Console, 250GB, Discounted
is rated out of
5
by
41
.
Rated

4

out of

5
by
mike smith
from
Overall: Would recommend
I bought an xbox 360 second hand, the console is brilliant and I've had no problems whatsoever. My only problem is that the console had parental controls installed, which stopped me playing games with an adult rating. This cost me about 25 pounds to rectify with a lot of explaining to Microsoft. So I would say when buying consoles from here to get them to clarify if the console has parental controls that are password protected. Also maybe CEX should restore all computers to factory default settings.
Date published: 2015-04-22
Rated

5

out of

5
by
bobbyfuk
from
what a bargain
i bought this to replace my old fat 360 and it was worth it! The console looks far nicer, and runs quieter as well. the size is more managable and it didn't cost much more than another fat one.
Date published: 2015-03-04
Rated

5

out of

5
by
Cassie
from
X BOX WINNER !!!
The service I received from you was first rate..well-packed, delivered on time and no problems with any aspect of this order. Judging by the expression on my grandson's face when he opened his X box birthday gift, this was an all-round winner!
Date published: 2015-09-16
Rated

5

out of

5
by
Magpie
from
JUST THE TICKET
I bought this for my partner as my son has one, but he didn't want to keep going upstairs to play. It's perfect. Fits in with the style of goods we already have and was an excellent price. He's been playing it since getting it for Christmas and the graphics are fab. It isn't noisy and was in good condition. He's very happy and was easy to set up and use.
Date published: 2014-12-29
Rated

5

out of

5
by
canman
from
happy
really happy with the purchase. exactly as it said on the tin.
Date published: 2015-03-03
Rated

4

out of

5
by
MeMeMeMeMeMeMe
from
Works fine
Works fine, a few scratches on the outside, but it's second-hand. My games appear to be running just fine and so far no issues I can complain about.
Date published: 2015-01-02
Rated

1

out of

5
by
kyurem336
from
Unusually poor showing from CeX
I bought one of these from CeX this afternoon because I wanted to get back into the 360 lineup. The console looked perfect, and I was happy with it. When I got home, however, I had been given a 4gb model instead of the 250gb I had bought. On top of that, my discs (which haven't been used since the last time I had an Xbox, 3 years ago) would not load up in the console. Avoid it. If you want an Xbox slim, pay the £6 extra and get an unboxed one
Date published: 2016-02-02
Rated

5

out of

5
by
Fearghal Jones
from
Great console!
Bought this console 2 years ago from CEX, had no problems with it at all, was in excellent quality for a really good price, was a faithful companion on my quest of gaming until i got my PS4
Date published: 2015-03-26