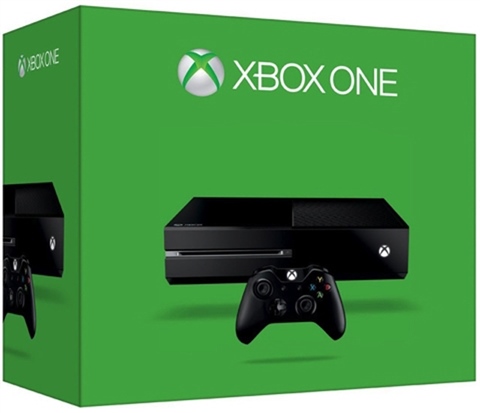 Xbox One Console, 500GB, Black

(No Kinect), Boxed

WeSell for
£170.00
WeBuy for cash

£79.00

WeBuy for voucher

£113.00

In stock online
Xbox One Console, 500GB, Black (No Kinect), Boxed
Get more with Xbox One.
Introducing the Xbox One. Where the best games, multiplayer, and your favorite movies, music, sports and live TV come together in one place. The Xbox One games look and feel incredibly real, with cinematic gameplay that rivals Hollywood. Watch TV or chat with friends on Skype while you play, and keep on playing while smarter matchmaking happens behind the scenes. With the Xbox One, you can snap two things side-by-side on your TV, and switch from one to another instantly. Cloud-powered and built for the digital age.
The Xbox One delivers an all-new gaming and entertainment experience that will transform how you play. The Xbox One brings together the best games, the most reliable service and rich entertainment all-in-one system that is built for today and tomorrow.
The best multiplayer and service.
Better matchmaking with Smart Match. No jerks - reputation system helps keep annoying players out of your games. No waiting in lobbies - play, watch TV, or surf the web while matchmaking happens.
Games plus entertainment.
Never miss a moment - get multiplayer alerts while you watch TV. Switch instantly from a game to TV, a movie, music and more. Snap an app next to a game and do two things at once.
Built for the future.
The Digital System - built for the digital age using the latest technology and the power of the cloud. Keeps getting better - "cloud powered" means the Xbox One and games grow with you over time. Advanced voice and motion control open up new game experiences like never before.
Play Xbox One games online or offline.
Your Xbox One does not need to be connected for you to enjoy offline features of games. In fact, you can take the Xbox One anywhere and play any disc-based Xbox One game on it. The only times you need an online connection are for initial set-up of the Xbox One, and to get the latest system and title updates before you start playing some games.
Share, trade-in, resell, gift, & rent game discs to your heart's content.
Use Xbox One's disc-based games just like you do today. There are no limitations to using and sharing them: it works like it does today on the Xbox 360. If you'd rather get your games digitally, you can purchase from Xbox Live and get instant access to playing.
You control your privacy.
You decide how personalized Xbox One is to you and your family, including privacy settings, manual or automatic sign-in, and how data is used. And when you play games or enjoy apps that use sensitive personal data, such as videos, photos, and facial expressions, no one except you can access it, without your express permission.
Your Gamertag and Gamerscore follow you to Xbox One.
No need to worry: you can bring your Xbox Live Gamertag and Gamerscore with you to Xbox One. Your Gamerscore will be automatically updated once you have connected to Xbox Live.
---
Notes About Additional Content
Our products may not include additional material like Digital Copies, Online Passes or promotional downloadable content (DLC).
Xbox One Console, 500GB, Black (No Kinect), Boxed
is rated out of
5
by
43
.
Rated

4

out of

5
by
Carlsho
from
Pretty Good
The delivery was remarkably fast, I ordered it on a Sunday evening and it arrived on the Tuesday morning. I was a bit disappointed it didn't come with a headset but as the advert doesn't specify what accessories you actually get then I can't moan too much. The console itself had a thick layer of dust in all of the air vents that I had to spend some time cleaning out and the controller had dirt and grime caked in all the cracks, but I suppose that's what you have to deal with when you buy second hand. Cosmetic issues and missing accessories aside then it seems to do what it's meant to!
Date published: 2016-04-06
Rated

5

out of

5
by
Farhan12345
from
10 out of 5!!!!!
I bought this item quite recently and when i opened it looked even better than the ones bought from Microsoft. Everything is included that is said and everything is very good quality. The controllers have nothing wrong, the mic that comes with it is very clear and has not broken. I highly recommend you to buy this as it is very cheap compared to other sites. Thank you for the great product.
Date published: 2015-03-28
Rated

5

out of

5
by
Dafster3110
from
Xbox One
When I ordered the Xbox One I wasn't expecting anything amazing. If anything I was half prepared for the console to be damaged, possible a few years old and very glitchy at best. What I received was a machine that works as if it was brand new, which it does appear to be on first look. The box run perfectly, without hitch and is in regular use. I could never have expected such quality and am delighted to say, should I ever have a friend looking to buy a console but willing to commit to other shops which charge more, I shall be walking them through the door of CEX. And I will not have leave until they have purchased themselves a console which I will assure them, from personal experience, is as good as from any other place.
Date published: 2017-06-06
Rated

4

out of

5
by
Tiger
from
great product
The console it's self was completely brand new, shipping was really fast, however I paid the extra to get the box as well and box was water damaged but other than that the console works great
Date published: 2015-07-01
Rated

5

out of

5
by
OddSnake
from
A great Gaming Platform, and in great condition!
I bought this item a few weeks ago, and it was bought in perfect condition. I have always been an Xbox fan, and wanted to upgrade to the 'Next-Gen' console. Upon purchase I was reminded of my guarantee/warranty which was reassuring as it was an expensive buy. Since I have bought, there have been no problems or faults, and it was like being brand new. Not only do I recommend buying an Xbox One, but I recommend purchasing from the website. They are trusted, reliable and have a range of high quality products for you!
Date published: 2015-03-26
Rated

5

out of

5
by
OliG91
from
Xbox One, need I say more?
Great console, great performance, great games. So glad I jumped ship from PS3
Date published: 2015-07-09
Rated

4

out of

5
by
Timmy D
from
Clever and unique console
A very good console! Wrapped it in blue and it plays so fluid and i admire the graphics Definitely would recommend getting one if you like getting lost in a different world . Very immersive and enjoyable Delivery was excellent also .
Date published: 2017-03-02
Rated

5

out of

5
by
Kamil Wisniewski
from
Great Features
I baught an Xbox one and i was affraid at first of buying something so expensive from a company like CEX but it was a great service, fast delivery and the xbox was like new.
Date published: 2015-03-03