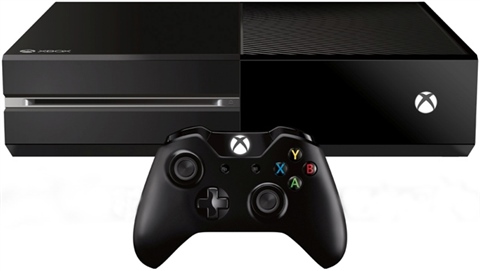 Xbox One Console, 500GB, Black

(No Kinect), Discounted

WeSell for
£155.00
WeBuy for cash

£72.00

WeBuy for voucher

£103.00

In stock online
Xbox One Console, 500GB, Black (No Kinect), Discounted
Get more with Xbox One.
Introducing the Xbox One. Where the best games, multiplayer, and your favorite movies, music, sports and live TV come together in one place. The Xbox One games look and feel incredibly real, with cinematic gameplay that rivals Hollywood. Watch TV or chat with friends on Skype while you play, and keep on playing while smarter matchmaking happens behind the scenes. With the Xbox One, you can snap two things side-by-side on your TV, and switch from one to another instantly. Cloud-powered and built for the digital age.
The Xbox One delivers an all-new gaming and entertainment experience that will transform how you play. The Xbox One brings together the best games, the most reliable service and rich entertainment all-in-one system that is built for today and tomorrow.
The best multiplayer and service.
Better matchmaking with Smart Match. No jerks - reputation system helps keep annoying players out of your games. No waiting in lobbies - play, watch TV, or surf the web while matchmaking happens.
Games plus entertainment.
Never miss a moment - get multiplayer alerts while you watch TV. Switch instantly from a game to TV, a movie, music and more. Snap an app next to a game and do two things at once.
Built for the future.
The Digital System - built for the digital age using the latest technology and the power of the cloud. Keeps getting better - "cloud powered" means the Xbox One and games grow with you over time. Advanced voice and motion control open up new game experiences like never before.
Play Xbox One games online or offline.
Your Xbox One does not need to be connected for you to enjoy offline features of games. In fact, you can take the Xbox One anywhere and play any disc-based Xbox One game on it. The only times you need an online connection are for initial set-up of the Xbox One, and to get the latest system and title updates before you start playing some games.
Share, trade-in, resell, gift, & rent game discs to your heart's content.
Use Xbox One's disc-based games just like you do today. There are no limitations to using and sharing them: it works like it does today on the Xbox 360. If you'd rather get your games digitally, you can purchase from Xbox Live and get instant access to playing.
You control your privacy.
You decide how personalized Xbox One is to you and your family, including privacy settings, manual or automatic sign-in, and how data is used. And when you play games or enjoy apps that use sensitive personal data, such as videos, photos, and facial expressions, no one except you can access it, without your express permission.
Your Gamertag and Gamerscore follow you to Xbox One.
No need to worry: you can bring your Xbox Live Gamertag and Gamerscore with you to Xbox One. Your Gamerscore will be automatically updated once you have connected to Xbox Live.
---
Notes About Additional Content
Our products may not include additional material like Digital Copies, Online Passes or promotional downloadable content (DLC).
Xbox One Console, 500GB, Black (No Kinect), Discounted
is rated out of
5
by
76
.
Rated

5

out of

5
by
GammyJit
from
Brilliant value for money!
I recently bought this xbox off of the cex website, and it arrived within 48 hours, which was a pleasant suprise. When i opened the box the console itself was immacculate, and the controller was also. Would recommend to anyone who is unsure about buying from cex, as i am very happy with it and have had no problems so far! Also, i will point out that this does not include a chat headset, so you will have to buy it seperately. Aside from that, amazing value for money!
Date published: 2015-07-31
Rated

1

out of

5
by
Robertswain100
from
Disappointing
Bought an Xbox with my birthday money and the controller didn't even stay connected. I went into my local cex to get a replacment controller and they gave me one, even though it seemed to be against their duristriction. Then that controller didn't even work so it seemed to be the Xbox, if I wanted a replacement one then I would of have to send it back off to cex which at the time seemed like a very long procces. So I had to refund it in store and then buy a complete new one instead. This was all very annoying and time wasting I would of loved it if I just got an Xbox that worked straight away and I didn't even get anything for the incovience I.e store credit.
Date published: 2017-10-19
Rated

5

out of

5
by
LLLouise
from
Xbox One
When first looking at the price of this, I was honestly expecting it to have some scratches and it to be a little dirty, but when it arrived I was overwhelmed. It look like brand new and worked perfectly. I couldn't ask for more, ever sins I have revived it I haven't stopped playing on it sins.
Date published: 2015-04-30
Rated

4

out of

5
by
shadowxxwizard
from
Great condition
I got the xbox a few weeks ago and I'vehad no issues with it, when it arrived it came in great condition with all the wires required and the controller had batteries which was useful, in all it is very good for such a low price.
Date published: 2015-11-08
Rated

2

out of

5
by
Gbizzle
from
Poor user experience
When compared with the ps4, the Xbox one represents a step back for modern day gaming. Redundant security features mean every time you wish to play, you need to input a code which can grow tiresome. Gaming is also a slow process with every game needing a partial installation (to prevent piracy and save Microsoft money) which means you spend an inordinate amount of time staring at a loading screen rather then playing your new game. The box itself is also an ugly thing and representative of a 1980s VHS player. Graphically, it is below par to the PS4 but only marginally however when considered with all the other pitfalls, PS4 wins hands down.
Date published: 2016-10-12
Rated

5

out of

5
by
AshJAtkinson
from
Awesome Outcome
Really happy with my Xbox One I got from Cex. The price was as good as I could find for what it is and you would never even know it was second hand if they didn't say so. Great quality product, good delivery time, I am one happy gamer.
Date published: 2015-12-03
Rated

5

out of

5
by
Bipolarpndabear
from
Completely Epic
As a "Discounted" product with no box, I expected a lot of scratches or some shoddy D.I.Y. paint job from the previous owner but nope, nu-uh, no way sir! The item in question was pristine and ran like I'd expect a brand new one to on initial start up, the controller is 100% (athough no charge pack) and both including all required wires were saftly wrapped within a gratuitous ammount of bubble wrap. I were so happy with it I brought Fallout 4 from CeX too. (In store.)
Date published: 2016-05-04
Rated

4

out of

5
by
Vinny5670
from
Great product
Bought this product a while ago however when it arrived very good condition, practically brand new without it looking second hand at all. Been playing it ever since with no troubles.
Date published: 2015-01-03